Dentist in Highland Heights, KY
All our professionals at Donn Mettens, DMD maintain the highest levels of accreditation and pursue ongoing education to stay abreast of the latest trends in dentistry.
Donn Mettens DMD
Dr. Mettens was born and raised in Fort Thomas, Kentucky. After completing his Bachelors of Science at Denison University, he attended dental school at the University of Kentucky where he graduated in 1983. He completed both his Residence in General Dentistry and Fellowship in Dentistry at Thomas Jefferson University Hospital in Philadelphia, Pennsylvania. After returning to Northern Kentucky, Dr. Mettens opened his own practice in Fort Thomas. In 1994, Dr. Mettens moved the practice to its current location in Highlands Heights, Kentucky. Dr. Mettens became a Fellow of The Academy of General Dentistry in 1991 and in 1996 was awarded the title of Master of The Academy of General Dentistry. He performs a wide range of dental procedures including Periodontics, Oral Surgery, Endodontics, as well as all facets of General Dentistry. Dr. Mettens completed the Endosseous Implant Program (1993) and Advanced Prostetics Series (1994) through the Midwest Implant Institute in Columbus, Ohio. Throughout his 30+ years of experience, Dr. Mettens has continuously evolved his practice to provide the most up to date treatment for his patients.
Jared Stewart DMD
Dr. Stewart was raised in Fort Thomas, Kentucky. He graduated from Highlands High School in 2007 and went on to complete his undergraduate and dental degrees at the University of Louisville, graduating from their School of Dentistry in 2015. After dental school, Dr. Stewart began his career in the United States Army completing a 12-Month Advanced Education in General Dentistry Program at Fort Carson in Colorado Springs, Colorado where he gained additional training in Periodontics, Endodontics, Prosthodontics, Oral Surgery, Dental Forensics, Operative Dentistry and CAD/CAM Technology. Upon completion of this comprehensive program, Dr. Stewart moved to Yongsan Garrison in Seoul, South Korea where he was stationed from 2016-2018. During his time there he completed the Army's Advanced Clinical Practice in General Dentistry Program demonstrating proficiency in advanced procedures in the fields of Periodontal Surgery, Oral Surgery, Endodontics, Prosthodontics, Implants, Pediatric Dentistry, Venipuncture and Clinical Sedation, as well as Army Field Dentistry procedures. From Korea, Dr. Stewart moved to U.S. Army Garrison Ansbach in Ansbach, Germany from 2018-2021. Dr. Stewart and his family enjoyed traveling the world while serving our country but are very excited to be back home and begin serving the people in our community.
Mackenzie Freeman RDH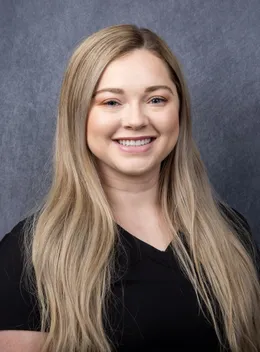 Mackenzie graduated Summa Cum Laude from the University of Louisville Dental School in 2018 with a Bachelor's Degree in Dental Hygiene. Mackenzie was born and raised in Northern Kentucky, graduating from Newport Central Catholic in 2014. She is licensed to administer local anesthesia and nitrous oxide. Mackenzie loves providing quality care to her patients and getting to know them on a personal level. In her free time she likes to cook, work out, and spend time with her family and friends.